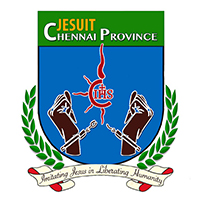 June 15, 2022
Among the many invaluable lessons learned in these pandemic times is one that celebrations could still be meaningfully held with a limited number of participants sans fanfare. We express our profound sentiments of gratitude to the Provincials and the PCFs of MDU and CEN Provinces for their meticulous planning and willingness to allow our parents and siblings to attend the ceremony with proper protective measures.
Due to the unexpected restrictions imposed by the government on public worship and celebrations on Fridays, Saturdays and Sundays, the Ordination, originally scheduled for August 28, was postponed to August 30. On that day, ten of us (4 MDU, 3 CEN,2 CCU, 1 DEL) were ordained priests by Bishop Stephen Antonysamy of Tuticorin Diocese at St. Joseph's College Church, Tiruchi. We chose as our motto To grow more in God's likeness.
Having reminded us of the 500th anniversary of the conversion of St. Ignatius, the Ordaining Prelate, in his homily, dwelt on the life of Ignatius and the experiences that led to his conversion of heart. He also acknowledged the tremendous contribution that Jesuits have made to the Church in India. He advised us to carry forward the same legacy with vigour and tenacity, and asked us to walk firmly in the path of holiness, perceiving the smell of the sheep and spreading the aroma of Christ. Our family members also expressed their joy-filled gratitude to the administration of the provinces for the way the event had been organized.
From August 17, the day we arrived at Beschi, Dindigul, from our SUPAM parishes till the time we left for St. Joseph's, Tiruchi, everything went on smoothly as planned. Frs. Michael Doss, the Superior, and Dhanaraj R. (MDU), the retreat preacher, warmly welcomed us. What followed was an eight-day inward journey into the call received, nourished, relished, lived, and yet to live. We thank Fr. Dhanaraj for his insightful points which were drenched in contemplative experiences of the Gospel and the Divine. On finishing the retreat, we were invited to Maduralaya for a dinner and on 27th morning, our dear novices wished us well and saw us off as we left for St. Joseph's, Tiruchi. What followed from then on was a pilgrimage filled with warmth, solemnity and joy. We remain indebted to all those who accompanied us in this journey. In particular, we express our thanks to Fr. Leonard Fernando, Rector of St. Joseph's, Fr. Leolin Arockiadass, who prepared us well for a grace-filled Ordination liturgy and the entire St. Joseph's community for their cordiality and accompaniment.
After our Ordination, all ten of us were permitted to celebrate our First Thanksgiving Masses with our families and relatives in our native parishes. A limited number of ours from neighbouring Jesuit communities joined the celebrations making us cherish the filial affection of our Mother Society. Thank you for making it possible even in the times of uncertainties.
Doni Raja & S. Jayaraj