RIP – Fr X Savarimuthu SJ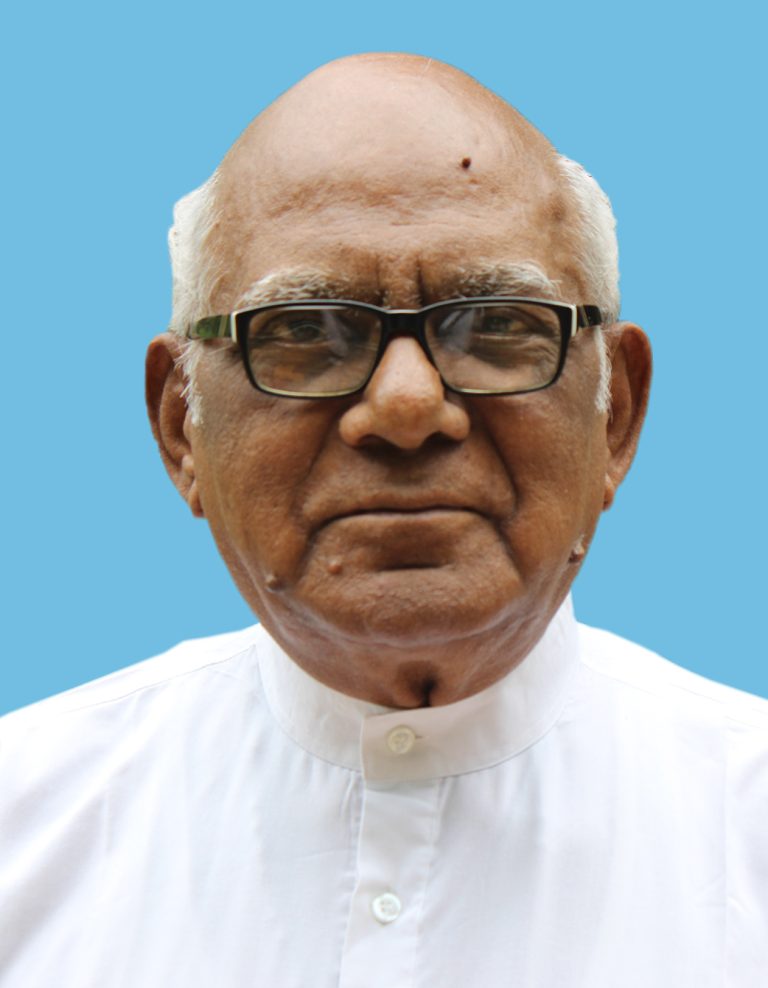 June 15, 2022
The announcement of the sad news that at 5.15 p.m. on 03 Mar 2021, Fr X Savarimuthu died at St Joseph Hospital, Dindigul, came as a shock to the Jesuits of Tamil Nadu and the Catholic faithful to whom he had been ministering as a pastor, retreat preacher and spiritual guide. As a spirited Jesuit, he lived his life in constant union with God who was his EVERYTHING. Born on 28 May 1937 at Rammathapuram in Tirunelveli District to Mr Xavier Madurendiram and Mrs Annamariyal, he grew up with his two brothers and two sisters in a well-to-do and devout Catholic family. After his schooling in his hometown, he did his B.Sc. in Mathematics at St Xavier's College, Palayamkottai, towards the end of which he felt called by God to become a Jesuit priest. Responding to God promptly and positively, he dared to leave home against his father's wish and entered the Novitiate at Beschi, Dindigul on 14 June 1961. He had narrated of the cold war he had with his father in his autobiographical book ,Njh tUfpNwd; which was later revised as என் இயேசு அனுபவம். This book has been used in the Vocation Camps and early stages of Formation for Table Reading so as to help candidates tackle the pressure from home. After the Novitiate and Juniorate, he did his Philosophy at Sacred Heart College, Shembaganur, and then moved to Jnana Deepa, Pune, for Theology. He was ordained a Priest in Madurai on 28 Mar 1971 and had a two-year stint there as Assistant Parish Priest. He had the "fire" to bring souls to God and so he served as a Parish Priest in Tiruchi and Thirumanur, and was a much sought-after retreat preacher and spiritual guide at Dhyana Ashram, Chennai, VMI, Vilangudi, and Clive House, Tiruchi.
The Spiritual ministry gave him a lot of energy. He found fulfillment in preaching Charismatic retreats. He exercised his ministry as a mobile pastor and went everywhere using public transport shunning comfort. He tirelessly walked miles to reach his faithful to celebrate Mass and administer the sacraments. He was generous to a fault. As he went with his jolna bag across his shoulder, he used to give away the money he had to the poor and keep for him only the absolute minimum. His famous and much-liked song put in music a cine track fdT fz;Nld; ehd; fdT fz;Nld; (I had a dream), used as the Communion Hymn at his Funeral Mass, manifests that profound desire to become a Jesuit Priest. That dream came true and he became and remained a holy Priest all his life. Even during the fag end of his life, people used to come to him and ask him frequently, to pray over them and bless them. Usually, a soft-spoken person with an ever smiling face, he used to speak with authority while exorcising possessed persons and, if necessary, pull out the crucifix from his cassock pocket and sternly rebuke the evil spirit. The celebration of the Eucharist moved him to tears of grace and filled his heart with great consolation. Spending long hours in prayer enabled him to imitate Christ
and kept him away from worldly attractions like money, power and position. He had a filial devotion
to Mary and he used to visit her shrine at Elakurichi every month during his tenure as the Parish Priest at Thirumanur. It is his passionate love for Jesus and Mary that made him to be a committed, compassionate, simple, unassuming and spiritual pastor. When he opted to join the Chennai Province, he once again set foot on Dhyana Ashram, Chennai, to continue his spiritual ministry. However, his health deteriorated and, in July 2020, he was transferred to Beschi Illam, Dindigul, where he joyfully continued rendering his noble services. It was while celebrating Mass for his fellow Jesuits in the domestic chapel on 21 Feb 2021, he suddenly fainted. He was made to sit and he insisted that he completes the Mass which he eventually did after a short break. The medical tests done at St Joseph Hospital, Dindigul, revealed that he had an intestinal perforation and, underwent surgery as per the doctor's advice. However, his health continued to deteriorate post-surgery and he passed away peacefully on 03 Mar 2021. On the following day, at 3:00 p.m., a well-attended Funeral Mass was celebrated by Fr Jebamalai Irudayaraj, Provincial. Fr Maria Arul Raj A shared his experience with
Fr Savarimuthu as a mobile pastor. After bidding farewell with Eulogies Fr Savarimuthu's mortal remains were laid to rest in Beschi cemetery. Michael Panimaya Raj & Xavier Antony Selvam February 2021.