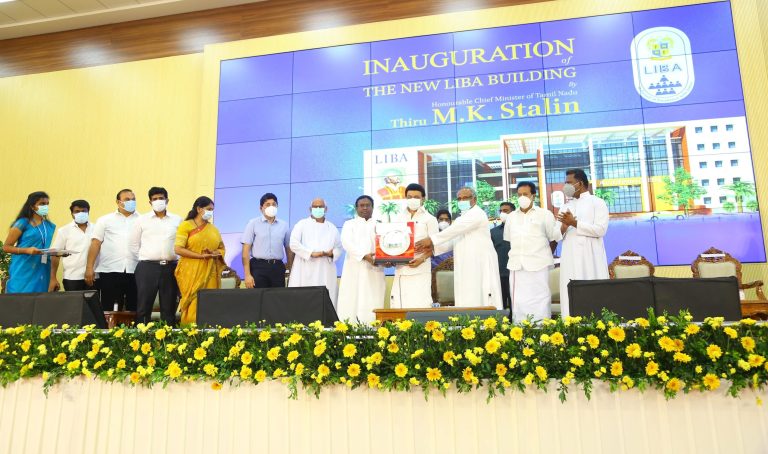 October 15, 2021
LIBA Inauguration
LIBA's efforts of re-strategizing its future gained further strength in the formal inauguration of the state-of-the-art LIBA building by the Hon. Chief Minister of Tamil Nadu Thiru. M.K. Stalin on 15 Oct in the presence of Dr. K. Ponmudi, Hon. Minister for Higher Education, Tamil Nadu, Fr. Jebamalai Irudayaraj, Provincial, Jesuit Chennai Province,
Fr. Danis Ponniah, Provincial, Jesuit Madurai Province, Fr. Francis Xavier P., Rector, Loyola Institutions, Thiru. Dhayanithi Maran, MP and Tmt. Kanimozhi, MP,
Mr. Wilson, MP, Dr. Ezhilan, MLA, Dr. Inigo Irudhyaraj, MLA, Dr. S. Xavier Britto, Chairman, Kerry-Indev Logistics and Mr. Shiv Shivkumar, Executive President, Aditya Birla Group.
Fr. Joe Arun, in his welcome address, shared the reason for inviting the Chief Minister for this occasion. He said that ten years ago, in 2010, Kalaignar Karunanidhi, his father, opened the engineering college, LICET and now it is his illustrious scion's turn to open LIBA's new building. And he also explained how he had conceptualised and designed the interior of the building based on design thinking and IT infrastructure guided by Artificial Intelligence (AI). This will help implement the academic thrust of AI, Machine Learning (ML) and Deep Learning (DL).
Thiru M.K. Stalin in his address said, "I will never forget Loyola College because many in my family including my son, Udayanidhi studied here. Not only that, whenever the Assembly election results are announced, I used to come to Loyola to receive the winning certificate." The Hon. Chief Minister further said how he longed to have studied in Loyola College like others in his family. The Chief Minister before coming to LIBA new building, visited LICET.
On this great occasion we gratefully remember late Fr. Andrew Francis who worked tirelessly to complete the building.
Zenith Lawrance M